2018
Emil Ruusuvuori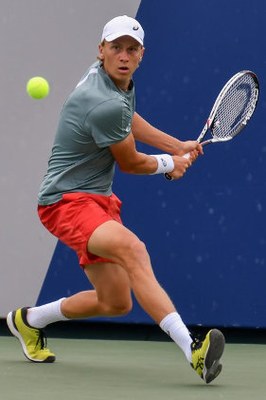 Emil Ruusuvuori (born 2 April 1999) is a Finnish professional tennis player.
He reached a career high ATP singles ranking of World No. 37 on 3 April 2023.
He is currently the No. 1 Finnish singles tennis player.
He has a career-high doubles ranking of World No. 179 achieved on 2 May 2022.

As a junior, Ruusuvuori was ranked as high as World No. 4 in the ITF combined junior rankings.
In 2017, he reached the singles quarterfinals of the Australian Open boys' singles, the singles semifinals of the US Open boys' singles, and won the ITF Junior Masters.

Ruusuvuori has also represented Finland in the Davis Cup, where he has a win–loss record of 5–5.
In September 2019, he defeated reigning world number 5 and 2-time Roland Garros finalist Dominic Thiem in straight sets in a Davis Cup singles rubber.
More information: https://en.wikipedia.org/wiki/Emil_Ruusuvuori