Interview to Alejo Mancisidor.
Alejo Mancisidor new goal in his professional career. Interviewed by "Industria del Tennis"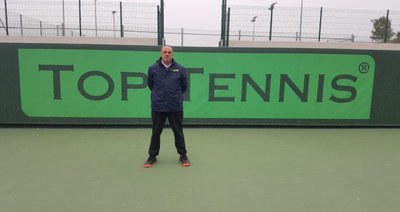 Jan 29, 2019
Alejo Mancisidor. "Top Tennis is a small, superprofessional project based on women's tennis"
Posted by: Drafting in Interviews, General January 29, 2019 140 Views
Alejo Mancisidor has started a new stage in Top Tennis, a project in which he has embarked with Arcadi Manchón and that is his first experience in a long time to start again from the base and to form high competition players. Alejo has been one of the reference coaches in Spain in recent years, where he has led the careers of players such as Garbiñe Muguruza or Paula Badosa.
How do you get to the project of Arcadi Manchón, Top Tennis?
I had been in the world of high competition tennis for 22 years, working with Top 100 players and I wanted to do something different and slow down a bit. For some time now we have been talking about doing something in common in Montbui with a base tennis project as the central axis. That does not mean that I discard doing specific things with WTA players but they would always be specific things, not full time projects. That time is past.
Did you end up tired of the pace of high competition?
My intention is not to travel so much, that is, not to do what I was doing before. My goal now is to support and accompany players that we are taking from below.
What are the main lines of the Top Tennis project?
The first thing I want to make clear is that Top Tennis is not an academy. It is a high performance center that is based on four lines of action. The first of these is the High Competition, which is made up of a very small group of 4/5 players between 12 and 16 years old and to whom we will provide all kinds of services, from school, to physios, psychologist. It is a line where we will work only with players. The next step we can call it 'high competition B' and in it we have between 12 and 16 seats. Under no circumstances will we exceed that cap. It is a very controlled and professional work project but working on a small scale. 80% will be based on women's tennis. We want to differentiate ourselves. In the third step we will work with players who are focused on traveling to the United States to combine sports and studies and already at the base of the pyramid will be the school of the club, in which at the moment, we have about 500 boys and girls. It is a project designed from the bottom up.
What is the common thread between these four steps of the project?
The idea is to work from the bottom up and do it with the same philosophy. It will be a long process, without haste, marked by illusion. Arcadi already had the CyD parts and contacted me to start the A and B. With us, Xavier Torner will also work, which started in Bruguera. Now it is in China. The intention is to finish his work in China and join our team to form a group with Arcadi and me. We collaborate between the three.
How is the work system in the high performance center?
Will be very focused on what is women's tennis today. Although we go a little lurch according to who is commanding the WTA, the influences oscillate: If Serena is imposed the aggressive game; if Halep is, a finer game. For my part, I am clear that we must focus on tennis in a more aggressive style and always based on what we are capable of doing.
Betting on a high performance center so specialized in women's tennis, is not it a handicap?
We have been spinning it for a long time. It can be a handicap as it is to be in Igualada and not in Barcelona but we have it very clear from the beginning. That's why we are going slowly, we will go little by little. Our goal is none other than to do things well. It is the way to work with tranquility. We reduce market but we create a small but superprofessional project.
In the presentation of Top Tennis you counted on the support of players like Lara Arruabarrena, María José Martínez or Arantxa Parra. What role do they play in the project?
All this has just begun and each one follows its path but we have links with them. They are players with whom I have worked and we maintain a good relationship. Whenever they can help us, they will do it and we will do it to them. There is nothing specific with them. It is a kind of letter of intent.
How is your adaptation being after so many years in the elite to return now to work with the base?
It was a point about which I had my doubts after so many years in the professional circuit but I tell you, for example, that yesterday I passed by the School and I was training with the kids. Time flew by. See the face of the kids playing and learning, it filled me a lot. I think that in this new stage I will be much closer to the kids. I am delighted.