Top Tennis and Head working for tennis.
Collaboration Agreement between Top Tennis and Head.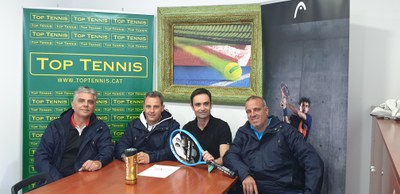 Mar 01, 2019
The collaboration between Top Tennis High Performance Tennis Center and Head España took place at the Top Tennis facilities. Head nº1 world in tennis material, will equip the Technical Staff of Top Tennis with sports equipment. Likewise, Top Tennis will be the official "Test Center" of HEAD TENNIS SENSOR.
Outstanding players of the professional circuit for men and women rely on the quality of the Brand: Novak Djokovic, Marin Cilic, Tomas Berdych, Richar Gasquet, Alexander Zverev, Daniela Hantuchova, Maria Sharapova, etc.
Top Tennis and Head España add synergies whose objective is excellence in work and performance.
Albert Bassas, head of the Head Spain brand, Arcadi Manchon, Alejo Mancisidor and Xavier Torner have formalized the agreement for a period of two years.